Study finds dogs may be smarter than cats, cats disagree
Dogs vs. Cats: Who's smarter? The age-old debate between dog lovers and cat lovers the world over may finally have an answer, according to a recent study. 
It turns out that dogs have about twice the number of neurons in their cerebral cortexes than cats. Dogs have some 500 million neurons compared to cats' 250 million. This suggests that dogs could be about twice as intelligent as cats. The full study and its complete findings are soon to be published in the journal Frontiers in Neuroanatomy. According to National Geographic, a team of researchers from six different universities in the U.S., Brazil, Denmark, and South Africa contributed to the research.
In a debate that is perhaps as contentious and long-fought as the "Over or Under" Toilet Paper discussion, evidence is key. The study of quantifying intelligence is difficult to pin down; past theories about measuring intelligence considered brain size and structural complexity, which were sometimes controversial. 
P.s., the "Over/Under" toilet paper debate was pretty much settled in 2015 when the official patent for a toilet paper roll was published illustrating, once and for all, that the "Over" method was the proper toilet paper technique.  Kittens pretty much agree the "over" method is the way to go.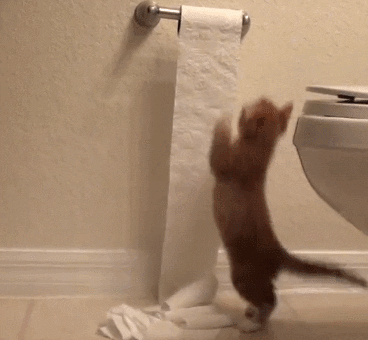 But no matter what the science says about intelligence, it still won't solve the debate on whether dogs are better than cats or cats are better than dogs. (Spoiler alert: We think they're both winners. Dogs are very good. But cats are, just, you know, really, really great.) 
Cats, on the other hand, might have something to say about these findings. 
"Are you sure one of those scientists wasn't just a dog wearing a lab coat?" 
"...Really?"
"Seriously? I saw the dog down the street eating his own leavings." 
---
8 comments
---
---