'I will die for my animals': Animal rescuer in Kyiv staying to protect over 400 rescue animals
While the Russian invasion of Ukraine continues to escalate with over 2 million refugees fleeing to neighboring countries, one Ukrainian man is staying put in Kyiv.
Andrea Cisternino runs an animal shelter in Ukraine's capital where he cares for over 400 animals including dogs, cats, sheep, goats and pigs. With that many animals, he doesn't have a way to safely transport them all away from the conflict. So, Cisternino has promised to stay with them through this devastating war. 
Through spotty Internet, Cisternino provides updates on his Facebook page with updates of his animals; the videos show helicopters and planes flying above the shelter.
An Italian photographer, Cisternino moved to Ukraine 13 years ago, married a Ukrainian woman and started an animal rescue to help save strays. Cisternino has dedicated his life to "speaking up for those who have no voice" according to his Instagram.
Shocked by the Russians invading Ukraine, he and his wife chose to stay in Kyiv regardless of the risks that many other Ukrainians have also chosen.
"I will be here for my animals. I have to think about saving a refuge and its 400 guests who deserve to be protected at any cost," said Cisternino.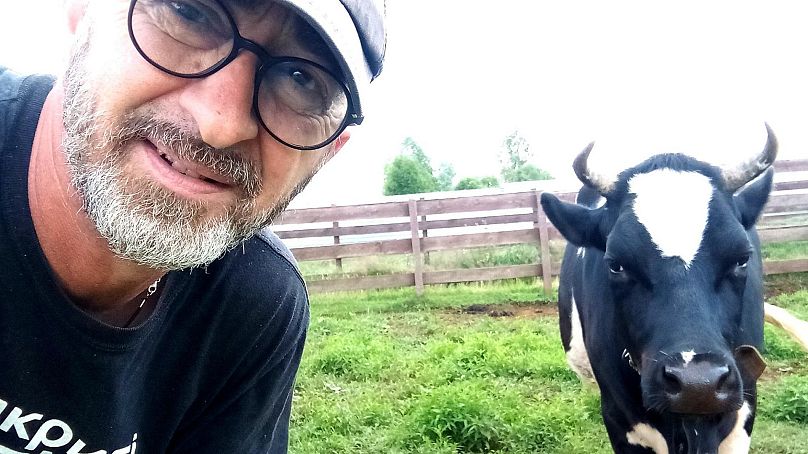 Andrea with one of the cows in his animal shelter. - Andrea Cisternino / Facebook
During a previous Russian/Ukrainian conflict (Donbas), Cisternino gathered provisions as a precaution in case a similar conflict erupted hoping this would help those same shelter animals in his care.
---
5 comments
---
---